Welcome to...
John Ely's Steel Guitar Web
Late Breaking...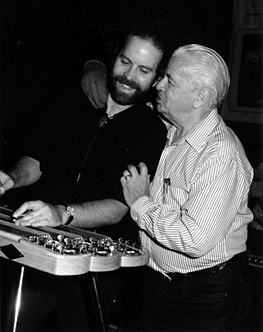 With the late, great Speedy West during my set at Scotty's 1994 convention in St. Louis.
My Audio Page
A work in progress, I'll be gradually posting samples of my arrangement offerings and teaching materials, demos of interesting tunings including the Leon McAuliffe E13th, and oddball live clips from the archives... Details
Master Tuning List
My comprehensive listing of playable Hawaiian, country, and western swing tunings gathered over 30 years, including comments on each tuning type and possible strengths and weaknesses of various setups... Details
New Arrangement Samples
I have posted some new material, including two new sample arrangements, "Coconut Grove" and "Bubbles In My Beer," and an updated Tablature Key. I also posted a couple of music theory primers you may find helpful. I now have the ability to create audio to go with the tablature... Details
Lessons
Thanks to an evolving Internet, I can now offer private steel lessons anywhere in the world to folks with the basic Skype video chat setup on their personal computer! The lessons are going great and the technology keeps getting better... Details
The Hexachord Harmonizer
All too often we become a slave to tablature and don't really know what we are doing, making it difficult to grasp or even memorize an arrangement. My students who know a little music theory are using the Hexachord Harmonizer system I developed in the fall of 2010 to fully harmonize almost any melody using basic major and minor chords found on most sixth tunings such as C6th and A6th... Details
You can download an arrangement of Red River Valley created with the Hexachord Harmonizer.
The Mailing List
I would encourage students of the steel guitar to sign on to my mailing list on the Guestbook page. Here's what I send mailing list members:
Updates on the release of instructional materials
Newsletter covering various steel guitar topics
Free tab arrangements sent periodically
If you're interested in arrangements, you can use the Guestbook to let me know your tuning(s), playing level, and any requests you have... Details
Coming...
My tuning and equipment recommendations for beginning steel guitar players. This page will be posted in the 'For Beginners' section.
Hotspots...
Beginner's Pages
If you a beginner, here are a few tips I hope will point you in the right direction, including basic equipment such as picks and steel bars and a little about the psychology of learning steel guitar. It is not the easiest instrument to take up, but the payoff is huge... Details
String Gauge Chart
Choice of string gauges is one of the most asked about technical topic in setting up a steel guitar. I have listed common string gauges used for each pitch from the rarely used high A string to the low A (very few will try to tune a note below this pitch). And there a host of issues that will affect your choice of strings gauges. Feel free to download my handy string gauge chart... Details
Master List of Useable Tunings
A comprehensive list of most of the tunings for Hawaiian music, western, and pop that I consider to be playable or historically important. I'll soon add a running commentary to this list along with my assessment of the strength and weaknesses of typical tunings from the listing... Details
The Chord Locators
I wrote the chord locators to allow you to locate chords commonly used in most steel guitar styles on whatever tuning you happen to play. No knowledge of music theory is required to use the Generic Chord Locator. I'm continuing to add to the menu of chord types and chord voicings within each chord type—if you think I've omitted an important chord in any of the chord categories please let me know... Details
The Advanced Chord Locator is for experienced musicians who have a voicing in mind and want to see if it's available on their tuning. You can also use this locator to determine if your voicing might be available transposed up or down using open strings... Details
ScaleLocator Update—June 22, 2010
The scale locators now have much improved display of results, using the same graphics engine used by the chord locators. The scale forms generator is virtually complete; I consider the basic scale locator to still be in beta—more work needs to be done to eliminate unuseful results... Check out the Forms Generator